Hilperton Hire Base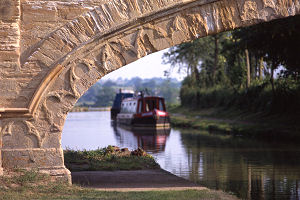 Each lock on the broad Kennet & Avon Canal takes 2 narrowboats at a time, making the Caen flight of 16 locks so much more impressive. Considered some of the very best countryside on any canal route, these trips frequently also pass straight through the very centre of the towns.
Bradford on Avon to the foot of the Caen Hill flight
3 nights, 9 hours cruising, 14 locks
Combine exploring and cruising, enjoying Bradford on Avon and a taste of the impressive wide beam locks.
Bristol & Return
7 nights, 25 hours cruising, 28 locks
The industrial history of this pretty route is evident in the mills, museums and waterside warehouses.
Bath & Return
3 or 4 nights, 8 -12 hours cruising, 2-14 locks
There is only the one lock before reaching Bath, but you can choose to continue down a lock flight through the town before returning.
"Cruising into Bath felt like gliding into Regency Britain. We could not believe how unspoilt the city is."