Rugby Hire Base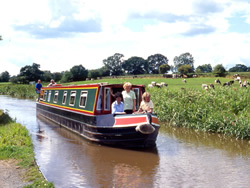 North from Rugby is rural and almost free of locks altogether, whereas heading South offers you a wealth of variation and plenty of activity. Excellent territory for a range of short breaks, all well serviced with pubs and rolling countryside.
Birdingbury Wharf & Return
3 nights, 18 hours cruising, 12 locks
Lots of peace and quiet with just two 3-lock flights in each direction.
Stoke Bruerne Museum & Return.
4 nights, 30 hours cruising, 32 locks.
Some early starts on this rewarding and peaceful cruise.
The Warwickshire Ring
7 nights, 55 hours cruising, 107 locks
An energetic week with an extraordinary range of canal side attractions all the way.
"Quiet villages and lock free cruising along the Ashby Canal - we were truly busy doing nothing but getting away from it all."